Hello everyone,
This week we have made a bunch of QOL changes, added a new crate, and much more!
Keep reading for more information.
➥ Event
Tomorrow
(February 21st)
at
4PM EST
we will be holding our usual weekly giveaway. We will be giving away a bunch of awesome stuff so make sure you are there!
Make sure you're online in time to participate in the giveaways.
➥ Content Update

Revamped Class System:
After a lot of player feedback, we have gone ahead and simplified the class system across the server.
Emojis:
We have added 20+ unique emojis to enhance your chatting experience. To use the chat emojis, simply type
:emojiname:
in chat and send! You can use
/emojis
in-game to see a full list of all the emojis and their names.
Lunar Crate:
To celebrate the year of the Ox we have released a brand new crate filled with some new amazing items! You can even win your own little dragon companion that rides around on your back!
Get your keys now at @
https://store.mineville.org/category/keys
Sell Chest Buffs:
We have decided to buff the sell chests to make them feel more worthwhile for players to actually obtain and use.
Other Updates:
A lot of work has gone into optimizing and improving server performance to give players the best possible experience. We are constantly working to improve and perfect it as much as possible.
Later tonight we will also be releasing Miner, Collector, and Feeder minions in ultimate crates for players to obtain.
➥ Resolved Issues & Changes
Added island profile in /is (Fire)
Glow & Chat colors can now be bought on the store (Anarchy)
Fixed issue with player count displaying 0 (Hub)
You can now win spawner fragments in the vote crate (Fire)
Ultimate & Super crate will now give more spawner fragments (Fire)
Replaced the quest that required spawner crafting (Water)
Added a spam filter (Global)
Added /servers (Global)
Fixed chests not generating with loot in shipwrecks and villages (Anarchy)
Added /hud (Global)
Added 30-second combat tag (Anarchy)
Improved class system (Kingdom)
Increases max member limit 10 -> 15 (Kingdom)
Increases default claim limit 5 -> 10 (Kingdom)
Fixed not being able to place certain spawners due to kingdom level (Kingdom)
Updated /help (Kingdom)
Fixed Piglins not spawning in the air (Water)
Fixed Mooshroom spawners not appearing in shop (Water)
Replaced spawner core reward in /core with a random spawner (Water)
Fixed poppy sell prices (Water)
Improved class system (Water)
Updated /help (Water)
Added Isles portal at spawn (Fire)...
​
Hello everyone,
We have some exciting news: we are releasing our very own Anarchy realm on MineVille on Saturday, 2PM EST. Anarchy will be an
endless
open-world vanilla server where you can build, destroy, and PvP everywhere. There is no claim protection and no resets. More importantly, it is
1.16
unlike most other anarchy servers that are running on 1.12 and below.
Spawn
There is no spawn on this realm. Upon joining (or dying) you will spawn somewhere within a 200x200 area of 0,0. No spawn protection means you can be killed upon joining/respawning and it also means the spawn area can be destroyed by players.
End & Nether
There is also an End and a Nether world. Both have no boundaries like the overworld. Beware of nether portals especially near spawn as they can be used to trap newbies.
No Resets
Under no circumstance will Anarchy ever reset. We will be taking backups periodically to make sure that in the event of any data loss, a recovery can be carried out in a fast and safe manner.
Groups
You will be able to join or create a group. Groups are composed of players who cannot hurt each other (friendly fire disabled) and have access to a private chat.
Groups cannot claim land and members cannot teleport to each other.
For a list of all group commands, you can use the command
/group help
in-game.
The default member limit per group is 3, however it can be upgraded on the store @
https://store.mineville.org/category/anarchy
​
Cosmetics
We will not be selling any packages on the store that can unfairly tip the gameplay against free-to-play players. For this reason, we will only be selling cosmetic packages such as group team limits, flight (disabled during combat), and wearables.
Wearables consist of head, hand, and back gear. There are wearables available on the store already and others will be released in our exclusive monthly crates.
The
Valentine's Crate
will be released on Anarchy & will consist of the following prizes:
Chat titles
Pink Chat color
Pink Glow color
Custom-modeled axe (no enchantments)
Custom-modeled bow (no enchantments)
Wings
Golden Harp
Teddy bear
Chat Filter
MineVille is committed to providing a family-friendly experience and therefore we have decided on having a chat filter on anarchy to prevent profanity, racism, and any other vulgar communication. However, be advised that we cannot (and will not) moderate actual builds made by players.
Rules
There will be no rules, and therefore no staff moderation on anarchy. Game-breaking exploits will be patched. Hacks such as flight & nuker, and other blatant cheats will be blocked by our anti-cheat.
​
Hello everyone,
Today we released a very important update on the network:
Wardrobe
. This new system will replace the old /hats system and will introduce two new types of wearables: Back & Hand gear. Additionally, you will now be able to withdraw your wearables from the wardrobe and trade them with other players, physically (we advise the use of /trade for such transactions to avoid scammers). This update will allow us to sell more exclusive cosmetics which is important in our long-term goal of transitioning into a cosmetics-dominated monetization strategy, which should provide an even fairer gameplay experience to non-paying players than it already is.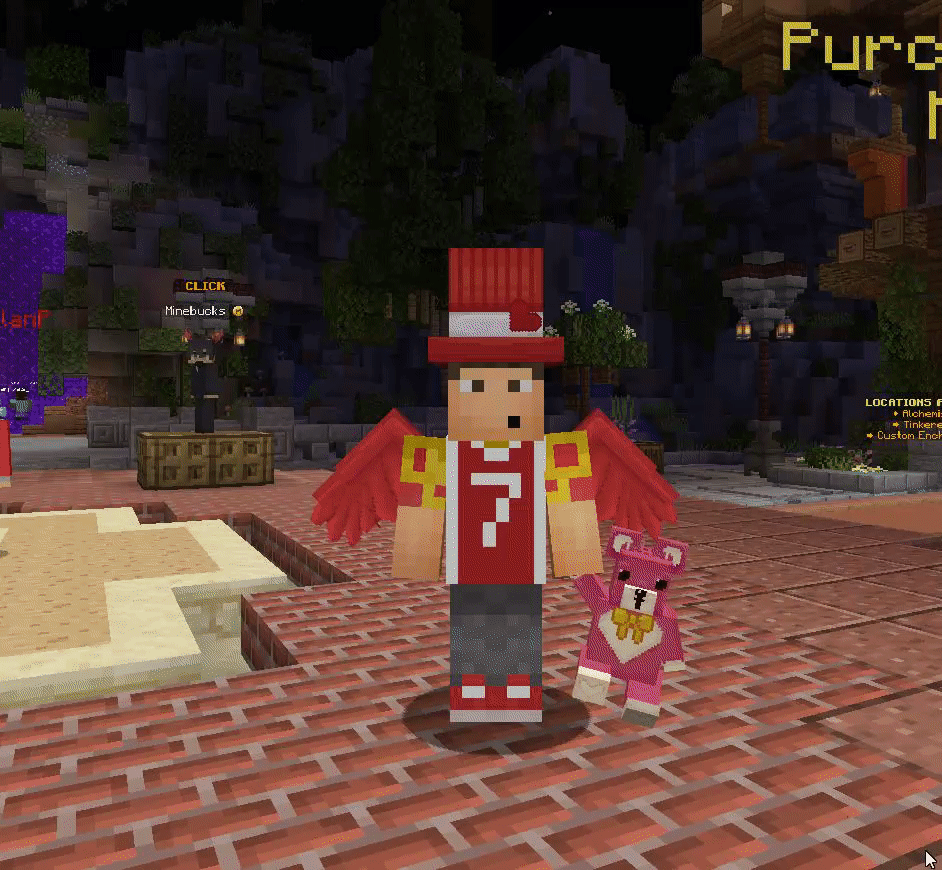 ​
Reply with your favorite hat from HERE for a chance to win that hat on the realm of your choice!
​
Transfer
We transferred all of your unlocked hats to this new system. When you open /wardrobe for the first time, you will be notified with a title "Wardrobe / New Items".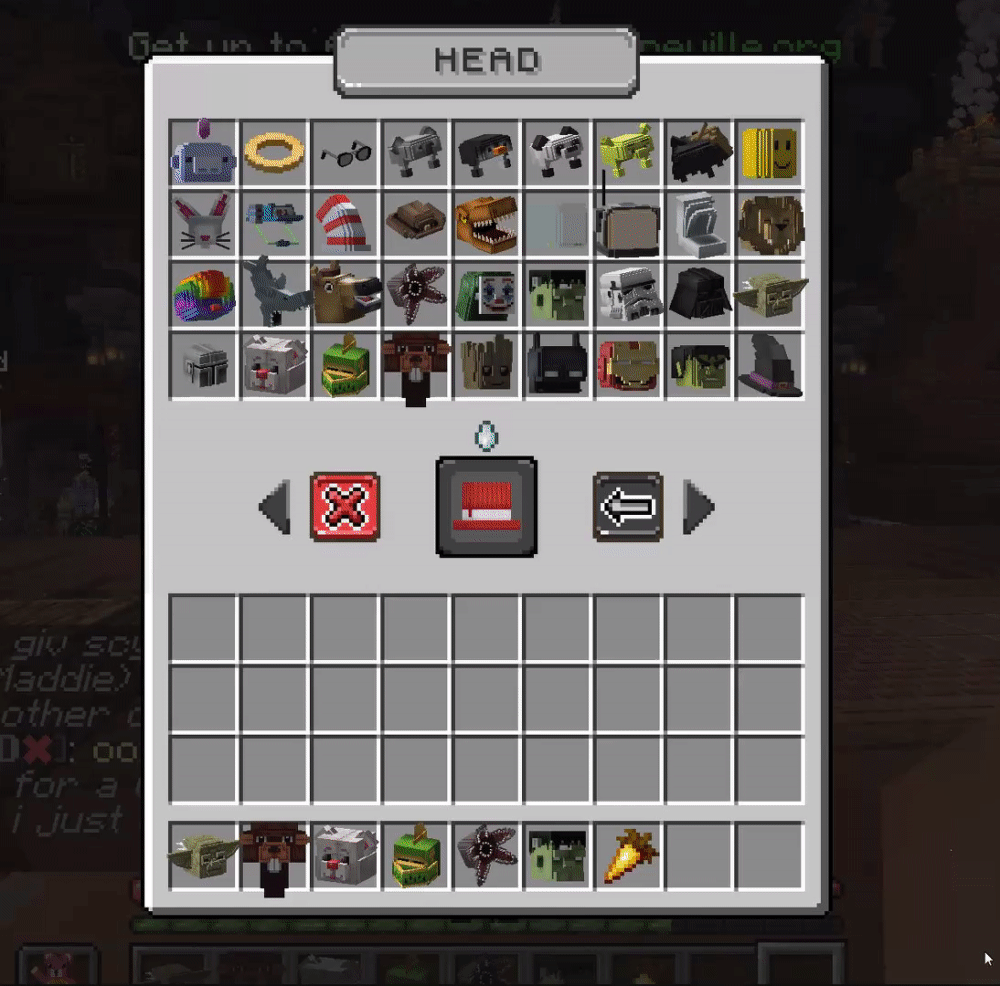 In addition to ensuring a seamless transfer, we also went back and added specific information for each of the hats. The lore of each hat will now have
It's source (which crate it was sold in or if it is available on the store)
It's release date (the day on which this item was released on the server)
We feel these new pieces of information are crucial when players start trading their wardrobe items as it can help decide the rarity and thus the pricing.
Withdrawing
To withdraw an item, simply Shift + Click on it and it will be moved to your inventory and locked in the wardrobe. You can then give this item to other players or deposit it back into your wardrobe by opening your inventory and clicking on it.
Again, we advise against trades done outside the /trade feature as it can be easy to fall victim to scammers.
Back Gear
This new type of wearable is ground-breaking to say the least. It opens the door to a wide variety of wearables that we never thought we could release before. We are kicking off the release with a line up of 8 cupid wings (available in the 2021 valentines crate) and 8 dragon tails (available on store).
For easy access to back gear, using the command /back (to use the old /back command, use /eback)
Hand Gear
This other new type of wearable is a nice addon that will allow for full-on costumes. We plan on releasing a full set of hand, back, and head gear with every new crate and on the store and we are sure that you will find them very...