​
Hello everyone,
In this post, I will be going over Water Season 9 & the new legends system which will be active on Fire, Kingdom & Water.
➥ Legends System
We have a new rewarding system for those who work hard to level up their islands & kingdoms. Every month, the top 5 islands & kingdoms that spend the most on island/kingdom levels will be rewarded with a +1 Legend Score. The leaders are the ones who will be receiving the rewards.
This replaces the old faulty payout system where the same top islands would win the rewards every month despite inactivity. It is also EULA compliant. A win-win!
How are the top 5 islands/kingdoms chosen?
The top 5 islands & kingdoms are chosen based on the amount of money spent on island/kingdom levels starting 00:01 AM on the first day of the month till 11:59PM on the last day of the month.
This means that simply being one of the top 5 islands/kingdoms on the all-time levels leaderboard doesn't necessarily qualify you for this. You have to be working hard every month in order to be a Legend.
The new leaderboards found at /top, /is top, or /k top has both the monthly & alltime leaderboards. The legends system is concerned with the monthly leaderboard and not the alltime one.
​
Rewards:
Earnings formula: 500 x (wins) Minebucks

This means that the first score increase will reward 500 minebucks. The second score increase will reward 1,000 minebucks. The 10th score increase will reward 5,000 minebucks and so on.

Exclusive chat prefix (legend score + trophy icon)
SOON: Exclusive website tag
SOON: Exclusive discord role
For a complete list of the realm's legends you can execute the command
/legends
where you will find a detailed scorebreak down. In this screenshot below, PizzaMC's island "hey" was #1 for January 2021.
Legend score never resets, however, rewards will start back at 500 minebucks for new seasons.
Legends system will not go into effect on Asgard this season.
If a person is leader of 2 islands that place in the top 5, one of them is excluded. (Water)
➥ Water Season 9
Water Skyblock Season 9 will begin on Saturday, January 9th, 4PM EST. This season will bring a
much
balanced economy, fair competition with the legends system, multitude of new features, and a lot of bug fixes. Season 9 will also be considerably longer than past seasons, as we move towards a more community-centered and non-OP gameplay that is more fun for everyone involved.
Water's revamp & reset assures that gameplay...
Hello everyone,
here is a snapshot of 2020. We are so proud of what we accomplished this year and the great strides that we made in areas of development, optimization, and resource pack engineering. I personally can't wait for 2021 because we have
HUGE
plans that I can't wait to reveal and release. Thank you for another year of great accomplishments & being with us on this journey.
➥
Network Statistics
2020 Player Peak:
1,049
(+149)
2020 Updates:
693
(-79)
2020 New Players:
461,200
(+140,200)
2020 Hugs:
166,600
(+125,492)
2020 Bans:
10,956
(+1,087)
2020 Mutes:
3,823
(-114)
2020 Warns:
4,778
(+1,365)
2020 Plugins Created:
212
Total Network File Size:
1.7T
(4.6T when including backups)
(+1,388 GB)
➥ Staff Statistics
2020 Most Voted Staff of the Month: Aerysional and baroompsycho
2020 New Admins: 2
➥
Forums Statistics
2020 Visitors:
330,000
2020 Support Tickets:
845
2020 News Posts:
26
2020 Forum Posts:
9,101
2020 New Members:
3,745
2020 Staff Applications:
399
Accepted:
49
Acceptance Rate:
12.2%



➥
Discord Statistics
2020 New Members:
6,484
2020 Messages:
969,080
Public
349,401
Staff
(+617,913 Public) (+215,557 Staff)
2020 #announcements:
128
2020 Hours in Voice:
5,653
2020 Members Synced:
6,441
Over
193,134
players have generated a code to sync but have not done it
Admins & Owners have been tagged
3,376
times in 2020
➥
Financial Statistics
2020 Total PayPal Payouts:
$3,800
2020 Highest Earning Game:
Kingdom Survival
2020 Highest Earning Crate:
Holiday Crate
2020 Chargebacks: 263 (235/263 won)
2020 Top Donator:
xxRHAMERxx
2020 Top Donator Runner up:
iszyisgood



➥
Social Media Statistics
2020 New Twitter Followers:
713
2020 Total Twitter Likes:
2,856
2020 Total Twitter Replies:
227
2020 Total Giveaways:
20
2020 Likes on NameMC:
270



➥ Top 15 Countries by Traffic
...
Hello everyone,
Fire Skyblock will be resetting and undergoing a revamp similar to Kingdom's on Sunday December 20th. The revamp is part of our network-wide mission in prolonging gameplay while adding a multitude of side-features to keep the experience fun. In addition to the revamping of Kingdom, Fire, & Water, we will also be rolling out content on a bi-weekly basis on the realms to keep the gameplay fresh; expect releases of furniture sets, new isle monsters & drops, nether resets, and other updates frequently.
We fix bugs within 48 hours of their reports, so please make sure that you report any bug/glitch/exploit that you find on discord or ingame through /smsg.
Reply with which feature you are most excited about for a chance to be one of the 5 winners to get the WITHER rank



➥ The Isles
Travel to the Isles to meet the most dangerous foes you have yet to face in Minecraft. Progress through five regions, slaying monsters and struggling to stay alive, to win exclusive rewards such as special armor items, spawner cores & fragments, tools, and gems. We will be releasing with 15 monsters, but we are planning on adding alot more in the future.
Regions in the order of which they will be unlocked: Tangleroots, Sandara, Icehaven, Relicrypts, & Burninglands
As you progress through the regions, monsters will get more dangerous and harder to defeat. You might need a friend!
The monsters will drop:
Rare custom tools & armor
Black & White scrolls
Rename Scrolls
Magic Dust
Spawner fragments
Spawner cores
and more
A complete list of the monsters, their abilities, and their drops can be found in-game using /isles.
Be advised, PvP is enabled in the Burninglands region. However, Keep Inventory is turned on.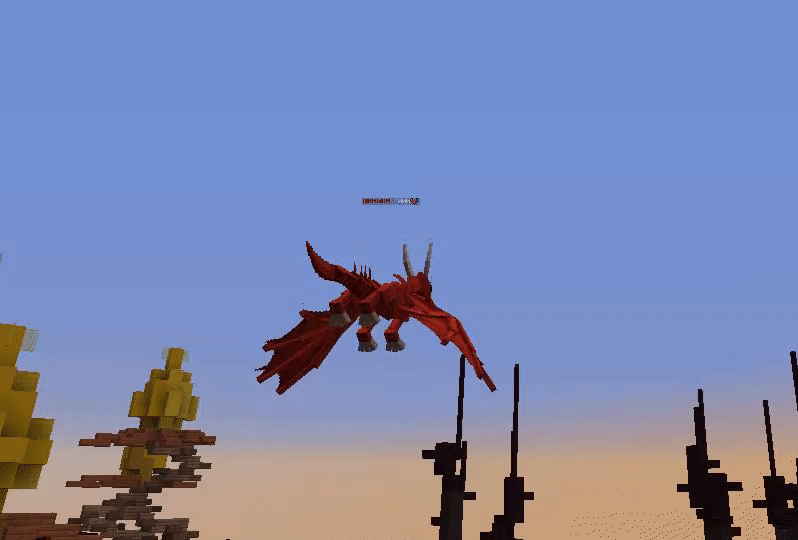 ➥ Furniture
Furniture can be obtained from two ways: crates or ingame shop. Exclusive furniture will be sold in the promotional monthly crates. But don't worry, we are also providing a lot of furniture for the in-game shop and these can be purchased using Minebucks.
Any furniture bought/unlocked will be added to your personal storage which can be accessed with /furniture. To place furniture, navigate to the appropriate category and click on the desired item to select a color. You will then get the furniture item in your inventory. If you changed your mind, shift + click on the item to deposit it back into your storage. To place the furniture item, simply click on the block that you wish for it to spawn on. P.S, you can rotate furniture!
...​