​
Hello everyone,
Today we released a very important update on the network:
Wardrobe
. This new system will replace the old /hats system and will introduce two new types of wearables: Back & Hand gear. Additionally, you will now be able to withdraw your wearables from the wardrobe and trade them with other players, physically (we advise the use of /trade for such transactions to avoid scammers). This update will allow us to sell more exclusive cosmetics which is important in our long-term goal of transitioning into a cosmetics-dominated monetization strategy, which should provide an even fairer gameplay experience to non-paying players than it already is.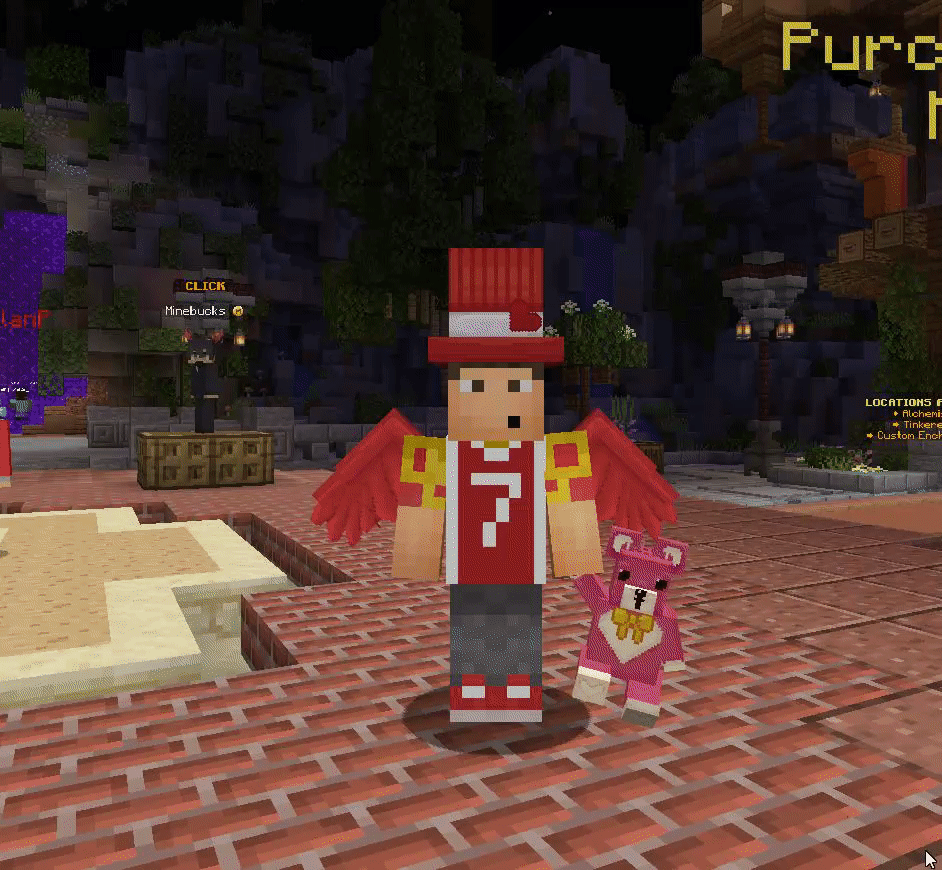 ​
Reply with your favorite hat from HERE for a chance to win that hat on the realm of your choice!
​
Transfer
We transferred all of your unlocked hats to this new system. When you open /wardrobe for the first time, you will be notified with a title "Wardrobe / New Items".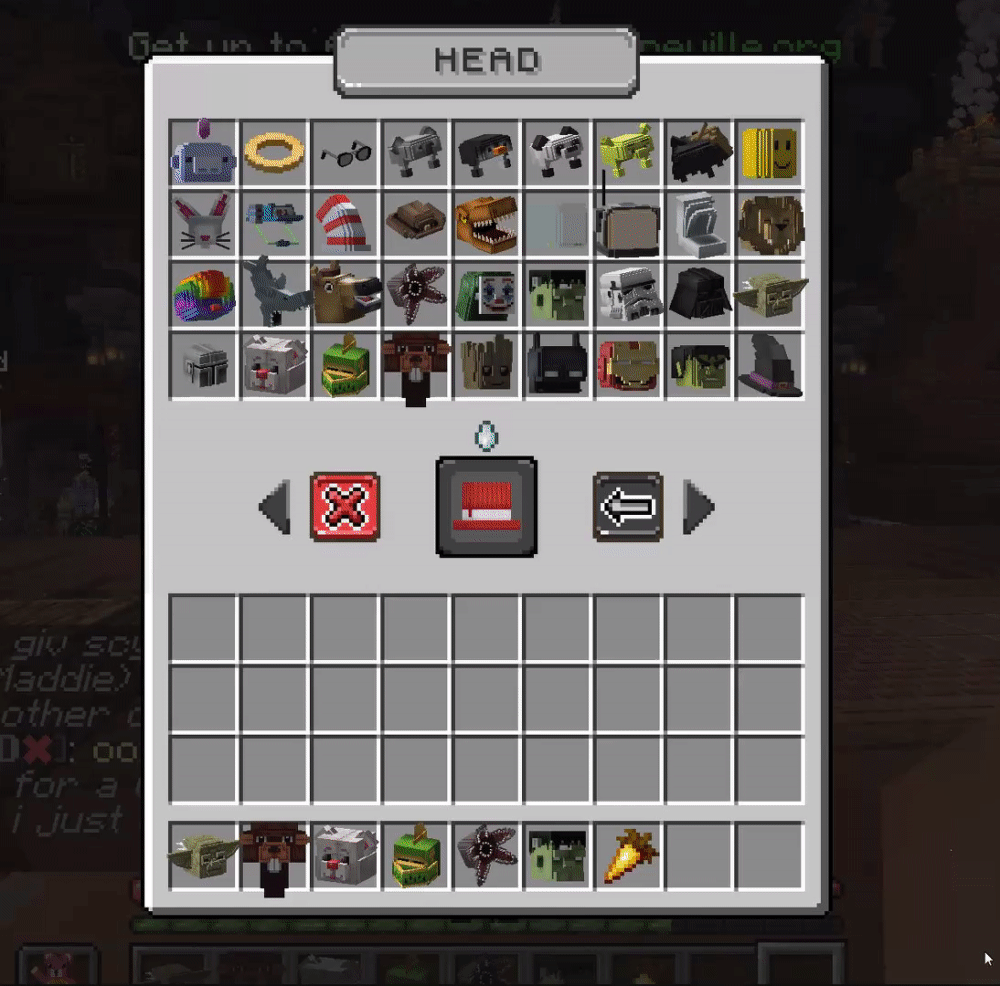 In addition to ensuring a seamless transfer, we also went back and added specific information for each of the hats. The lore of each hat will now have
It's source (which crate it was sold in or if it is available on the store)
It's release date (the day on which this item was released on the server)
We feel these new pieces of information are crucial when players start trading their wardrobe items as it can help decide the rarity and thus the pricing.
Withdrawing
To withdraw an item, simply Shift + Click on it and it will be moved to your inventory and locked in the wardrobe. You can then give this item to other players or deposit it back into your wardrobe by opening your inventory and clicking on it.
Again, we advise against trades done outside the /trade feature as it can be easy to fall victim to scammers.
Back Gear
This new type of wearable is ground-breaking to say the least. It opens the door to a wide variety of wearables that we never thought we could release before. We are kicking off the release with a line up of 8 cupid wings (available in the 2021 valentines crate) and 8 dragon tails (available on store).
For easy access to back gear, using the command /back (to use the old /back command, use /eback)
Hand Gear
This other new type of wearable is a nice addon that will allow for full-on costumes. We plan on releasing a full set of hand, back, and head gear with every new crate and on the store and we are sure that you will find them very...
TOP VOTERS | STAFF OF THE MONTH | STAFF PROMOS | TOP KINGDOMS AND ISLANDS | MONTHLY UPDATES AND STATS

|
​
| TOP FIVE VOTERS OF JANUARY:
The vote leaderboard has now reset - Find links at
https://mineville.org/vote/
The top 5 voters every month earn
2,000 Minebucks ($20)
Congratulations to the top voters! The top 5 will receive their minebucks shortly.
| STAFF OF THE MONTH
Congratulations to This Month's
Staff of The Month
Junior
@RookMoonHammer
and Senior
@Dehiscence
| STAFF PROMOTIONS
Moderator @Dehiscence

- Water (additional server)

@Prim529

- Fire (additional server)

@RQCAPTAIN

- Fire (additional server)

Helper


@rileyanthophila -

Asgard

@palmatum -

Asgard

Trial Helpers

Please welcome our new trial helpers!

@RookMoonHammer

- Kingdom

@Deepbru -

Water

@Kade_34

- Fire

@thech0s3n0nes

- Kingdom

| TOP KINGDOMS AND ISLANDS

We have a new rewarding system for those who work hard to level up their islands & kingdoms. Every month, the top 5 islands & kingdoms that spend the most on island/kingdom levels will be rewarded with a +1 Legend Score and minebucks! Legends will be featured in /legends.

Monthly Top Kingdoms (based on all-time instead of monthly, only for this month)


Monthly Top Islands - Fire



Monthly Top Islands - Water
| UPDATES AND HIGHLIGHTS THIS MONTH
➥
Water season 9
was released. This season will bring a much balanced economy and a multitude of new features such as 2 new island worlds, profile system and cobble gen tiers.
➥
Legend system
released! Every month, the top 5 islands & kingdoms that spend the most money on island/kingdom levels will be rewarded with a cool prefix in chat and minebucks. This replaces the old faulty payout system...
Hello everyone,
Starting this week, you will be able to obtain new Legendary Drops at the Isles!
Read on for more information.
➥ Event
Tomorrow (January 24th) at 4PM EST we will be giving away 5x of each Starter Rank on ALL REALMS along with a Giveaway Box for everyone online!

Make sure you're online in time to participate in the giveaways and to receive your Giveaway box.
➥ Content Update
Brand new Legendary Drops have been added to the Relicrypts and Burninglands isles.
All the new Legendary gear come with passive abilities and are stronger than your usual gear without being too overpowered.
Relicrypts Drops:

Scorpions will now drop Scorpion Shears
Mutated Moles will now the Mole Shovel
Skeletal Mage will now drop the Skeletal Staff
Burninglands Drops:

Lava Golem will now Golem Chestplate
3-Headed Hound will now drop Hound Helmet
Red Dragon will now drop the Dragon Eye Blade (animated :0)
'


➥ Resolved Issues & Changes
Totems, Tridents, and Saddles will no longer stack when bought from the shop.
Resolved certain things causing lag on Kingdoms.
Added helpful chat announcements to multiple features.
Fixed interruption by hosting service issues for Impostor.
The custom resource pack will now properly display missing hunger & health.
Added new legendary Isles drops.
Fixed multiple broken menu textures.
Fixed redis related issues.